Ultrafast broadband update – 1 October 2021
Following our latest progress meeting with Openreach, we are pleased to confirm that the new broadband service should be 'orderable' for residents in Phase 1 (Forest Road and roads off) from the end of October. Those of you who pledged a Gigabit Voucher should receive an email from Openreach advising when the new service is available. You may then place the order with the Internet Service Provider (ISP) of your choice, provided they are offering an ultrafast service that at least doubles your previous speed. There will then be a short delay whilst Openreach carries out the final connection to your home, on behalf of your ISP. Please note that it is the responsibility of your ISP to ensure that your new connection is made; all communications regarding this new connection should be via the ISP.


Openreach advise they are on track to complete Phase 2 (Ockham Road) by the end of November and Phase 3 (West Horsley) by the end of January.
There are likely to be traffic delays on the A246 between the Shell garage and the Effingham lights during the period 4-8 October whilst they connect the fibre 'spine' that joins Horsley to the Leatherhead exchange. They ask that we bear with them whilst this essential work is carried out.
If you have any questions about the project, please continue to email us and we will do our best to respond:
This email address is being protected from spambots. You need JavaScript enabled to view it.
Horsley Ultrafast Broadband Task Group
1 October 2021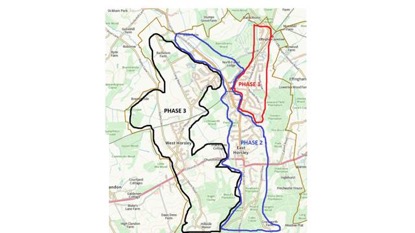 The project is being spearheaded by a Task Group comprising:
Colin Carmichael (Parish Councillor, The Highlands)
Steve Harvey (Parish Councillor, Woodland Drive)
Stuart Bowden (Broadband Road Lead, Rowbarns Way)
Chris Woods (Broadband Road Lead, Heath View)
This group is supported by 45 'road leads' who have acted as the main link between the project team and individual households and businesses. A big 'thank you' is given from the Parish Council to this hard working group for ensuring the success of the pledging process.